The increasing demand for industrial innovation and digitalization is a consequence of the need to develop competitiveness in the global operating environment.
The key to achieving competitiveness and success is a renewed approach to technology and more efficient use of technology.
Pinja is your partner in digitalization and industrial innovation. Our work is based on our will to help industrial companies renew and digitalize their activities and to incorporate this change into the everyday lives of our customers. We promise to be a guide for our customers with whom businesses can be developed in a future-proof way.
Take a closer look and download the brochure below!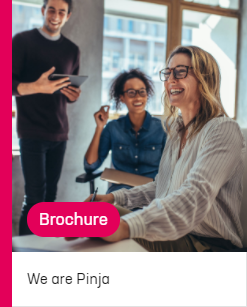 Download the guide by filling out the form below. The guide is free of charge and downloading does not bind you to anything.