Expert guide to utilizing Computational Fluid Dynamics (CFD) in design
With the help of Computational Fluid Dynamics, data can be collected about phenomena the examination of which by experimenting under real world conditions would be troublesome, slow, expensive, or even impossible.
Computational Fluid Dynamics (CFD; also known as numeric fluid dynamics) is an industrial tool for simulation of phenomena such as gas and liquid flow or heat transfer from one component to another using computer modelling.
CFD is applied in various industries, such as the process, power engineering, pharmaceutical, and marine industry, as well as in server centres, demanding HVAC design, and urban planning, for example.
In this guide, we answer e.g. the following questions:
What is CFD?
What can be studied with CFD?
How to perform CFD?
Case examples of CFD applications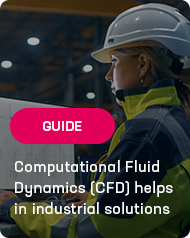 Download the guide by filling out the form. The guide is free of charge and downloading does not bind you to anything.