Expert guide for using machine vision in the production environment
Machine vision is a hot topic in modern manufacturing industry environments. Thanks to almost unlimited application possibilities, machine vision solutions have found their way to the investment lists of many manufacturing companies particularly in recent years.
Machine vision solutions bring efficiency to production and automation because of their versatility of use. In addition to product quality and production control, they can also be used in the development and optimization of the production processes themselves.
This guide provides a comprehensive overview of the secrets and areas of application of machine vision in the manufacturing industry and explains reasons why it is a good idea to take an interest in it. We hope that this guide will help you get general information on machine vision and its application in your own field of industry.
In the guide, we answer e.g. the following questions:
What is machine vision?
What is machine vision needed for in industrial companies?
What kind of machine vision technology exists?
Which are the most common areas of usage of machine vision in the industry?
Benefits of a machine vision solution?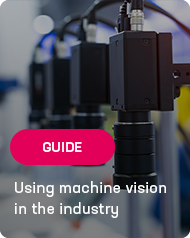 Download the guide by filling out the form. The guide is free of charge and downloading does not bind you to anything.