Guide on adoption of production planning system
This guide is directed to organizations operating in the production industry
field of business. In this guide we will provide concise answers to FAQs as for production planning system procurement and its adoption.
Guide answers questions regarding following topics:
The starting point and timing of procurement
Request for quotation and the choice of system vendor
Practical implementation
Pricing and repayment period
Delivery time
How to avoid the most common obstacles?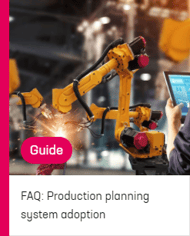 Download the guide by filling up the form on the right. The guide is free of charge and downloading it will not bind you in anything.