Expert guide to IT environment risk management in industry
In the industrial sector, a production IT environment consists of devices and
software applications that must be monitored and maintained just like the
rest of the IT environment. If the production critical sectors are not identified or their performance is not monitored, risks grow greater each day.
In this guide, we explain why it is important to pay attention to the maintenance of industrial IT environments. After reading this guide, you will know how to identify the most critical risks in production IT environments and how to minimise these risks.
In the guide, we answer e.g. the following questions:
What does an industrial IT environment mean?
Who should be responsible for the maintenance of the production IT environment?
What are the most critical risks in the production IT environment?
How can these risks be minimised?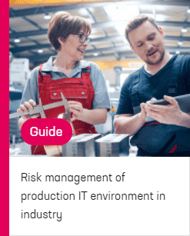 Download the guide by filling out the form below. The guide is free of charge and downloading does not bind you to anything.