Professional guide to successful Microsoft 365 migration and deployment
Microsoft 365 is a productivity cloud that includes, among other things,
Office 365 apps and versatile data security features. M365 is currently
the most popular and valid productivity cloud for organizations of
various sizes.

This guide helps your organization replace your existing system with
Microsoft 365 and guides you to a successful migration step by step. The
guide discusses important questions worth of considering well in
advance before selecting the system partner
In this guide we will answer to following questions:
What are the phases of a M365 -deployment project?
How to choose the right partner?
How to deploy M365 successfully in your organization?
What happens after a successful migration?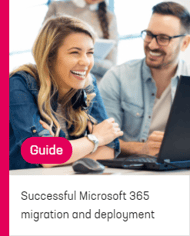 Download by filling up the form on the right. The guide is free of charge and downloading does not bind you into anything.