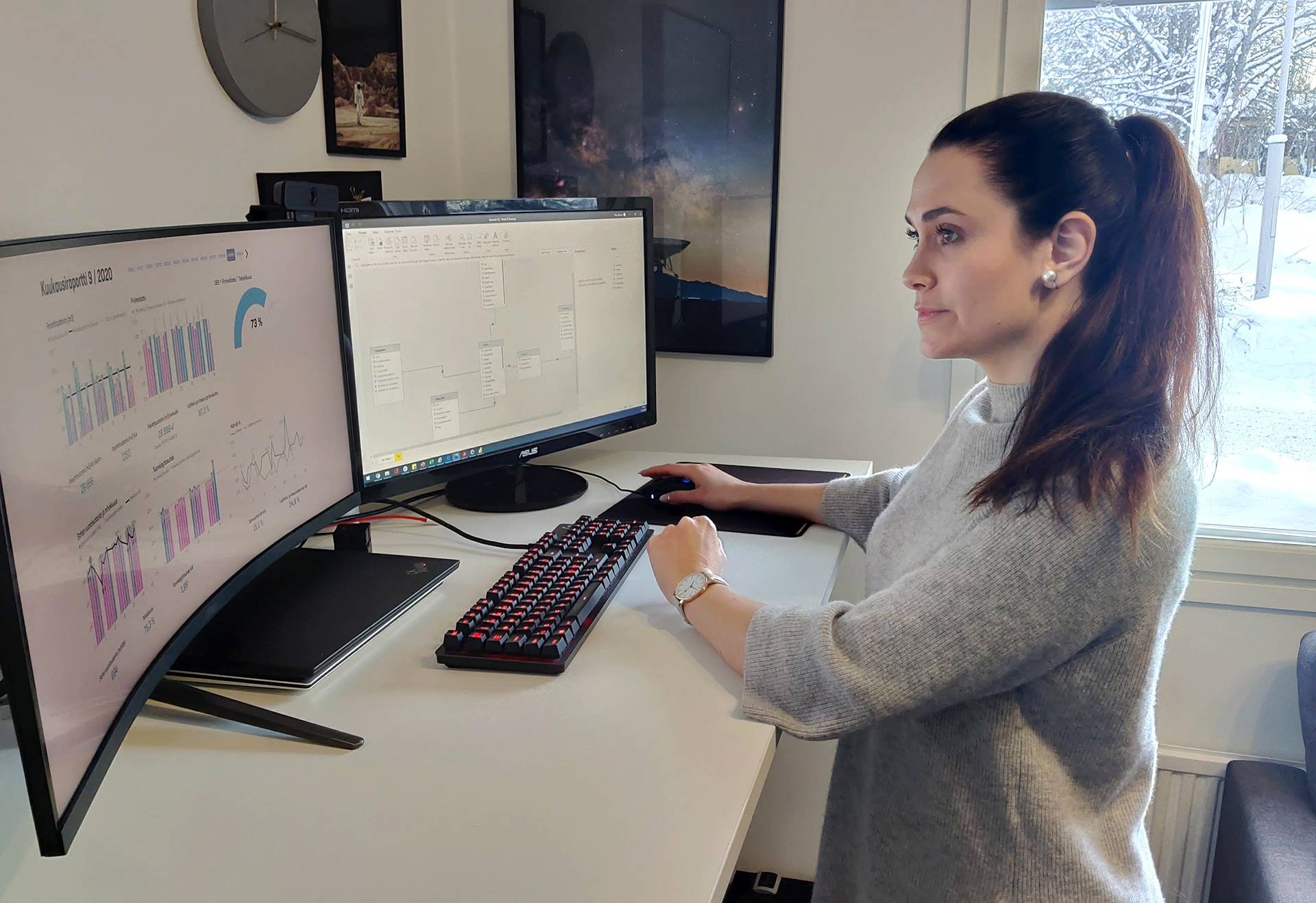 One of Pinja's recent recruits, Hanna Tahvanainen, is a BI specialist and a data analyst who helps customers in business intelligence management. Hanna finds her work fascinating – she helps customers use data to develop business operations, solve problems and improve efficiency. These aspects also keep her motivated in everyday work – especially as the Pinja team is always there to support and encourage each other.
In her current position at Pinja, Hanna develops the reporting of a hospital district, thus helping the customer in efficient and data-driven decision-making. In her project team, roughly half of the specialists focus on data warehouse development and half on reporting. Hanna works with report development and says that the work has met her expectations in a positive way.
- Health technology was actually one of my specializations in my studies and I also have previous work experience in the field. I feel that my current work is genuinely meaningful, and it's great to be working on an interesting project together with a great team, Hanna says.
Data analyst facilitates customers' decision-making
Fascination with technology runs in Hanna Tahvanainen's family. Her father, sister and brother have all got their education at Tampere University of Technology, and it was Hanna's brother who recommended a study programme in information and knowledge management to Hanna. Not long after, she ended up studying the field.
– For me, information management and data analytics offer a nice combination of technology and softer considerations. Data visualization is one of my favourite aspects of the work, and it is also highly useful from the customer perspective. Having clear report views means that the information can be used more easily and effectively in decision-making. Clear visual presentation is essential for perceiving the big picture, Hanna notes.
Hanna's work includes carefully listening to what the customer needs, specification and planning, data analysis and visualization. The primary tool used is Microsoft Power BI. Reporting can be used for a variety of purposes in a company's operations, as it supports both analytical and operative actions. The ultimate goal is to help customers use their existing data to make decisions based on facts – in other words, put data-driven management into practice in their everyday business.
For Hanna, one of the perks in the work is a supportive team. At Pinja, she and her colleagues truly work together, although mostly remotely for now. Hanna has not found it difficult to adapt to a new work community during the corona restrictions. Quite the contrary, communications works well even through remote connections. Hanna is also pleased that her employer has looked after workstation ergonomics at her home office, and regularly held remote coffee and other breaks keep up a good community feel among colleagues.
– I jumped to a moving train when I joined this project, but I received a thorough induction at a well-suited pace. From the get-go, I felt that I was allowed to do genuine specialist work. My team appreciates my input and I did not have to start from a substitutes' bench. Throughout my time with Pinja, I've been allowed to give my full input and advance the project at hand.
Hanna says that she has been given further responsibility gradually, in suitable chunks. She started off by assisting the project leads, watching and asking a lot of questions. Soon she will assume more responsibility over specific parts of the project herself. Hanna says she feels truly motivated by the work. Everyone in the team supports and encourages each other, and Hanna's own supervisor is always there when needed.
Career potential and quick catches
In Hanna Tahvanainen's view, technical inclination and background will take you far if you dream of working as a data analyst or a BI specialist. You will have no trouble learning the tools and methods as long as you're able to absorb new information and take a quick catch when you're handed the ball.
– Communications skills are key in everyday work. It is important to ask about anything you feel uncertain about and, most of all, listen closely. At the end of the day, listening to the customer will lay the most important foundation for data-driven management solutions. It enables a deeper understanding of who we should present the data for and in which format in order to best serve the intended purpose, Hanna states.
What also helps in the work is a good basic understanding of business. Previous field-specific knowledge is also useful, but much of it can also be learned with the support of more experienced team members and an open-minded, receptive attitude. A data analyst is, first and foremost, a developer, a problem solver and an enabler of improved business efficiency.
I think it's great that Pinja offers so many opportunities for growth and that the organization covers such a wide range of expertise.
The development project for the hospital district will continue for several years to come, which allows Hanna to learn even more about the customer and their business. Her current aim is to further develop as a BI expert and deepen her expertise as a data analyst. Once she has taken over this area and things run smoothly, she might expand her horizons towards data warehousing or project management, for example.
– I think it's great that Pinja offers so many opportunities for growth and that the organization covers such a wide range of expertise. You can seek new inspiration from different positions, projects and customers, and the variety of industries Pinja is involved with also adds to the mix, Hanna says.
What type of people would Hanna recommend to seek positions similar to her own?
– Data analyst is the right choice of professions if you're interested in business development, data analysis and visualization as well as data-driven decision-making. What's also important is the willingness to work together in a team and pursue a shared goal, Hanna notes.
Read more
Pinja's Cloud Platform team pull together and everyone can concentrate on their own strengths
Pinjattaret create team spirit at the workplace
Renewing the industry with youth and experience
Well-being at work during new normal
Business Intelligence
Recruitment