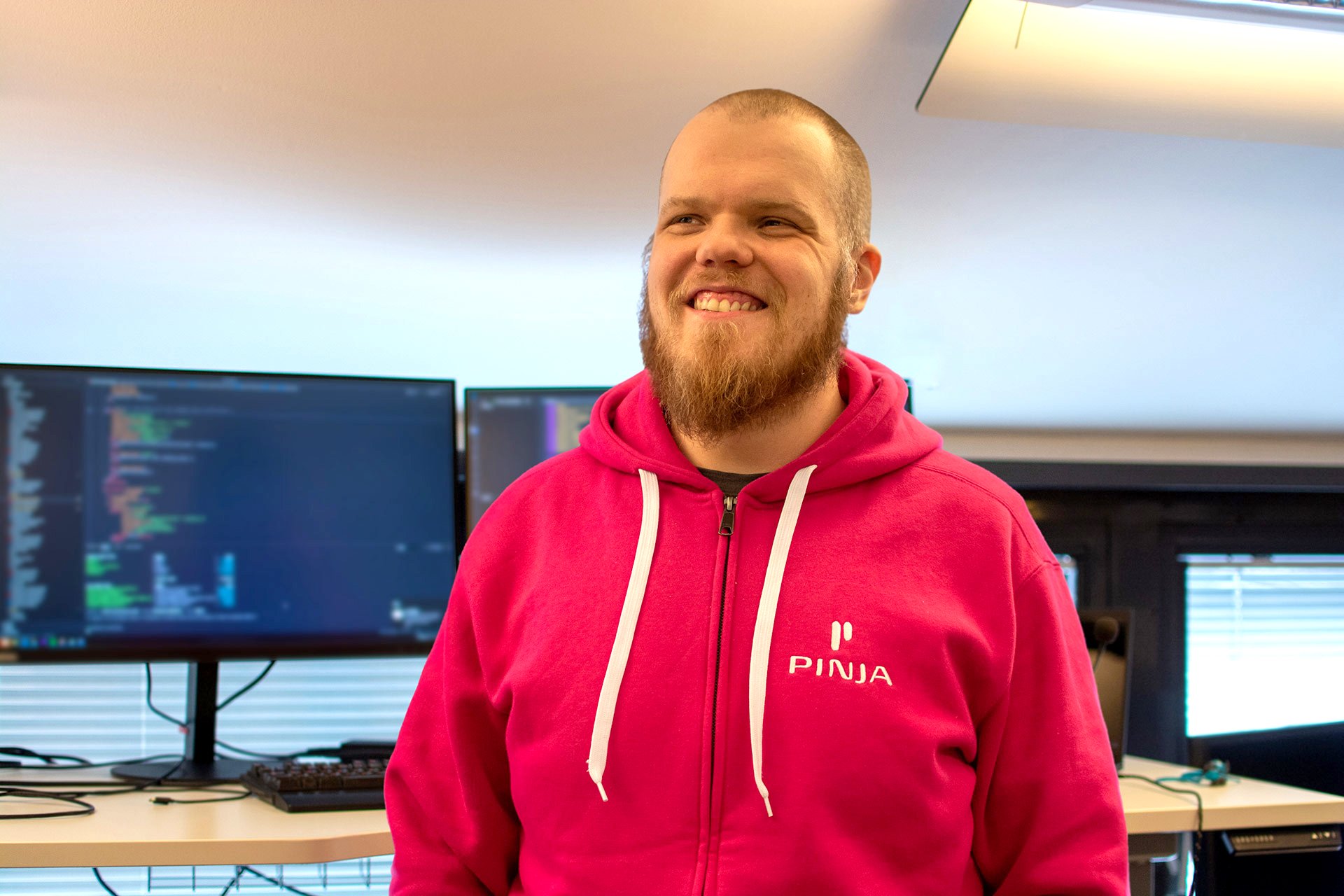 Pinja's long-term software expert, Lead Architect Pekka Savolainen, is a true multi-competitor in software development. Savolainen enjoys the creativity and challenges of his work and considers coding to be basically a handicraft profession.
Pekka Savolainen, who works in Jyväskylä, says that he does a lot of things in the field of software development; practically everything that is needed. He designs software, acts as a technical product owner and performs DevOps development work on, among other things, production and testing automation. In addition, he still does a lot of his original work, coding.
– Time and time again, the most pleasing thing about this job is coding, solving problems and the associated handicraft mentality; the fact that you see your own handprint in the result. It's a bit like when you build a pier on the shore of a summer house yourself. It's nice to visit the place and admire the end result, even in the middle of the night, if you have to, Savolainen says laughing.
Savolainen is currently working on the Flow by Pinja product and handles the technical end of the development work based on the Microsoft Azure cloud service. The work is strongly based on the needs and wishes of customers – and their customers.
– My job description as a technical expert includes that I help with different projects if necessary. For example, I am currently working with the circular economy. Last year I was working on a project related to roadworthiness testing. I jump around from project to project as needed. In addition to my own team, I'm in regular contact with other tech leads of Pinja, Savolainen says.
Experienced software experts have various titles at Pinja, one of which is lead architect. In addition, the company has software experts with the title software architect, software developer and full-stack developer.
– In the end, the title is just a guiding title for me. Personally, I think that I'm a true IT nerd, and I wouldn't mind if my business card had the title one my friends gave me, which is Software Josh! In any case, in this work you have to dare to put your hands deep in the clay and constantly study more, otherwise you'll fall behind. And it doesn't matter if learning sometimes happens through mistakes and dead ends, Savolainen encourages.
Lifecycle management is key even in software development
Savolainen is a promoter of careful and long-term development work. The work constantly presents situations where new components are added to existing software solutions and structures, and this must be done as smoothly and cost-effectively as possible. Software gets expensive as it gets older – or rather, when the operating environment inevitably changes over time.
– It is one thing to develop new software from scratch and get it up and running. It is a completely different matter to be able to take care of the entire lifecycle of the software and its continuous development. One of the most memorable customer feedbacks was one I got years after the end of my part of a project. I then heard through middlemen that the client had been able to quickly code an important add-on to the software I had originally been involved in building. When the groundwork is done properly, the code is also easy to change and maintain, Savolainen says.
Software developers often have to decide how to work sensibly with so-called legacy code, that is, existing code that needs to be modified. Meaningful transition paths from old to new are often laborious, and even during the transition, client data must be available for the organization to continue uninterrupted. Even a more experienced coder may have to go through many twists and turns before finding a suitable solution for the situation.
A Lead Architect is a creative craftsman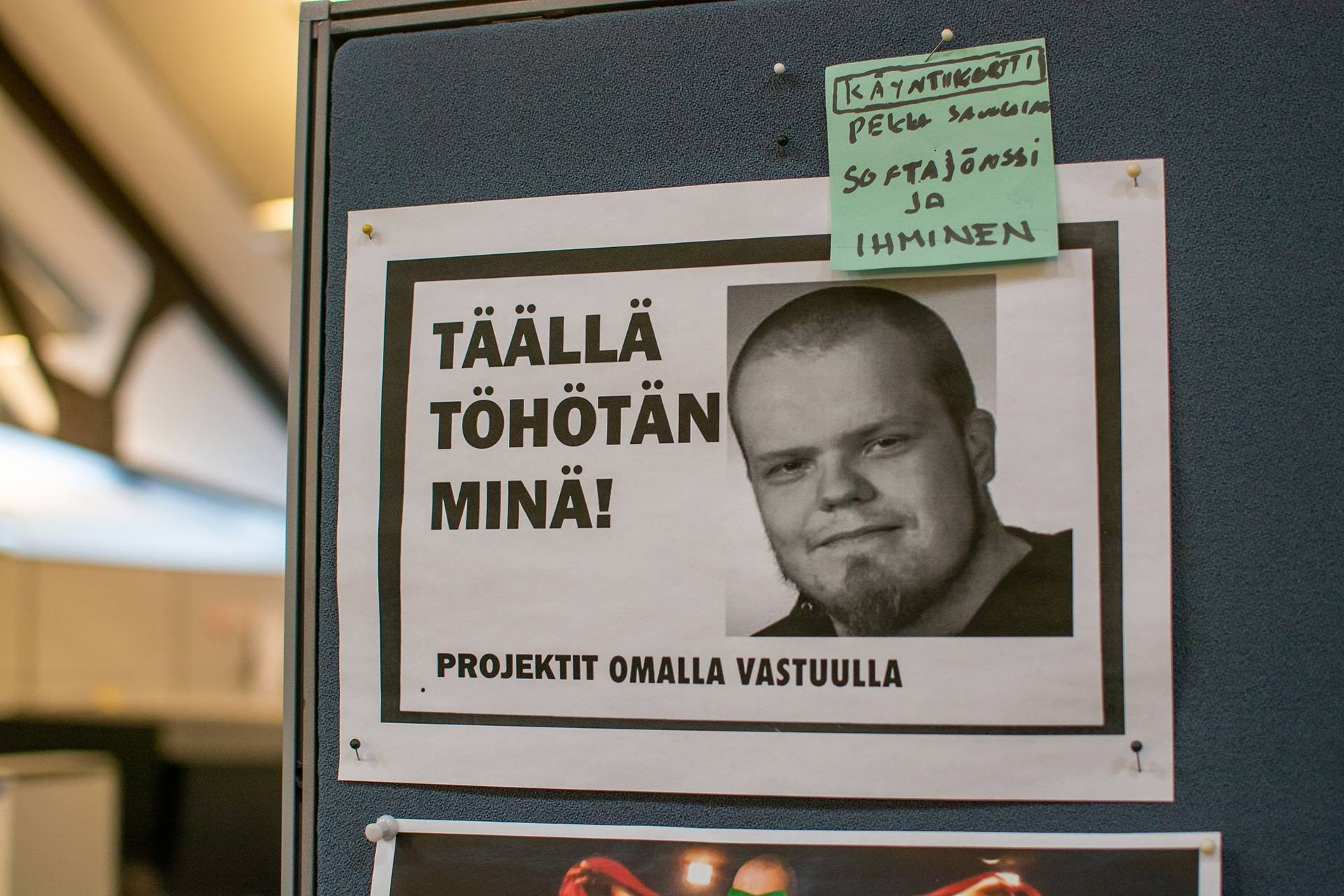 Savolainen has been at Pinja for a long time. He says that the main reason for it is the work community and the fact that he has been able to change the job description in the desired direction along the way. He feels free to fulfil his desires in his work as long as the goals are met. Freedom arises from mutual trust.
It's really important to me that I get to do my own work and exercise decision-making on my own plot. Facts and knowledge of the substance are critical, and I think that, for example, technical management should be based on them. Coding is ultimately quite creative work. That is why I appreciate the fact that I've received a sufficient amount of responsibility and freedom at Pinja, Savolainen says.
Pekka, or "Peke", is known at Pinja not only for his hard professionalism and uncompromising attitude, but also for his good sense of humour and popular staff events. Among others, he has organized LAN gaming events, board game events, paintball and poker nights for his colleagues over the years. The events have been open to all and, at best, they have gathered up to 40-50 participants.
– I warmly encourage all the junior developers to organize events that they're interested in. Colleagues will certainly appreciate the activity, and at the same time they have the opportunity to gain a little visibility. The main thing, of course, is that it starts with one's own enthusiasm and interest, Savolainen says.
Read more
Software Specialist – apply for a job at Pinja!
See all our vacancies
Check out the career stories of Pinja's people