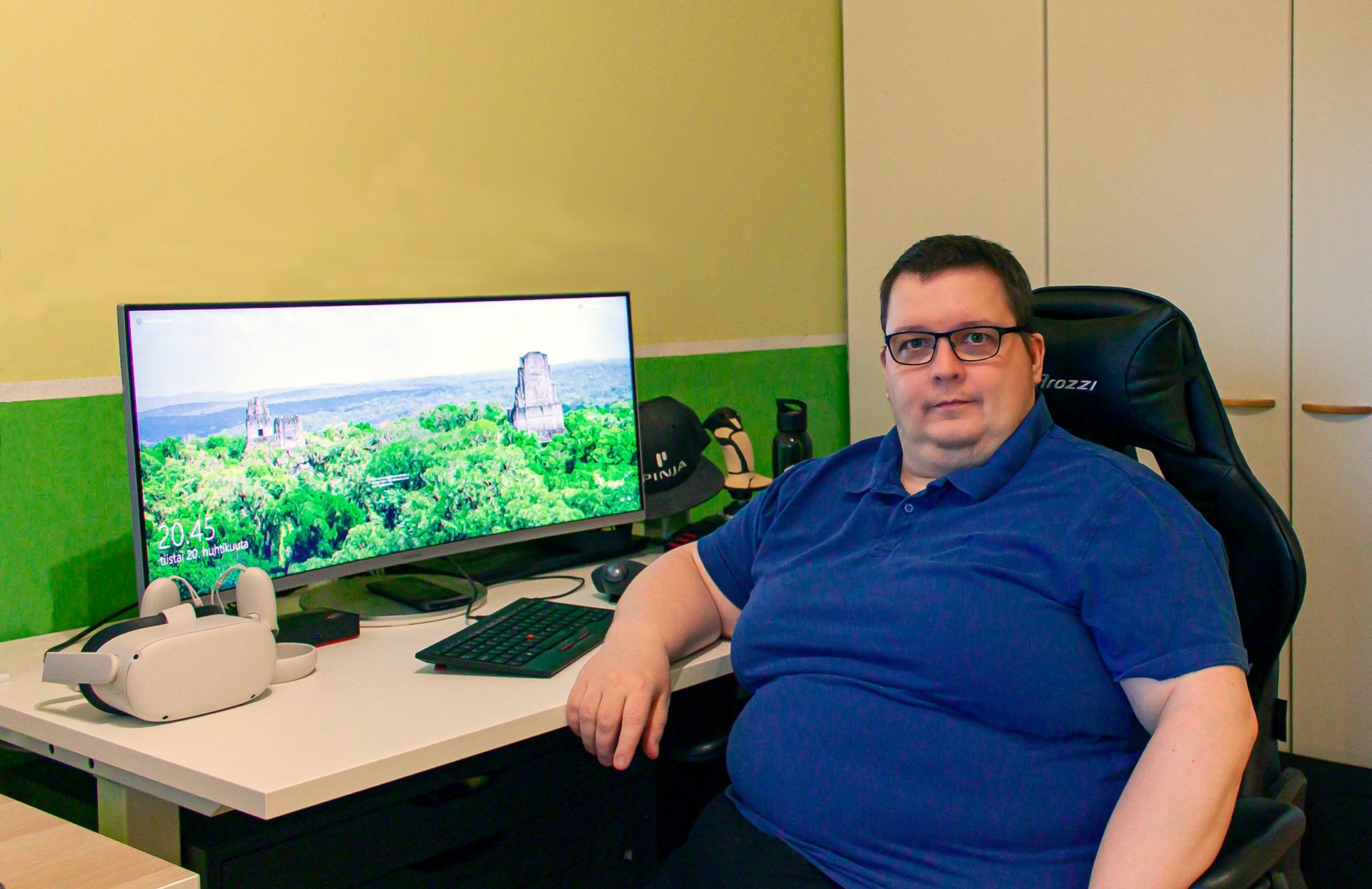 Senior Software Developer Sami Siuruainen, who lives in the small and idyllic village of Siuro, is used to remote working. He works on the Novi by Pinja product and develops it together with the rest of the team – 100% from home. Remote working at home allows Siuruainen to spend more time together with his family, reduces the time spent in the car, enables later wake-ups and saves money.
Sami Siuruainen, who has worked in software planning and development for more than 20 years, is a member of Pinja's Novi maintenance system development team. He codes, solves problems and further develops the software mostly in the background, internally, in a team of more than ten people.
Siuruainen contributes to the famous "invisible" work that does not always shine with its spectacularity but is critical to the software. It ensures the functionality and reliability of the system for the customer during the course of development, as well as in the future.
Guts and expertise
Senior Software Developer Sami Siuruainen describes doing general software development at Pinja, improving system performance and responding to the requests of the sales and customer service managers. Although the work is highly specialized, we should be able to hide the technical details under the hood and be able to discuss matters with non-technical people as well.
– We have to keep in mind at all times that the end user of our software is not necessarily an IT expert. For example, in troubleshooting, communication sometimes requires interpreting skills, as the software developer and the client may use quite different terminology. We have to constantly remember and outline the operating environment in which end users work, Siuruainen states.
Because clients have different operating environments, Siuruainen's long and varied experience with different tools is beneficial to his work. In his current role, he is able to take advantage of the wide range of lessons that he has learned over the years. Because Siuruainen has long-term experience in a wide variety of tools, as well as older ones, he finds that the work tasks related to them often land on his desk.
Siuruainen's work is mostly independent, but when necessary, the coder also receives support and can consult with other team members. He describes the work of the team operating in different parts of Finland as quite straightforward and solution-oriented, but there is humor, as well.
The Novi team uses Microsoft C# and VB.NET as their main development languages. In addition to programming and database skills, Siuruainen says that his work requires a bold approach and guts. Although the work is largely independent, one must dare to open one's mouth when the time calls for it.
– In problematic situations, one must have the guts to state one's opinion boldly, even when it is not entirely certain. However, a reasonable idea arising from experience always takes the matter forward, and we know what direction to take, Siuruainen says.
Remote working at home – appreciated by the family, the wallet and the environment
Remote working at home has been familiar to Siuruainen for several years. He praises the functioning basics of Pinja, and that every promise has always been kept. He has also received support from his employer to do his work remotely.
– Pinja delivered to my home a fully-fledged workstation with an electric desk, office chair and monitor. However, I use my own keyboard, Siuruainen says.
Remote work from home is a suitable choice for Siuruainen for many reasons. For a family man, the father of two children who enjoy ice sports, the time saved on work commutes is quite welcome. Earlier, he headed to the office early in the morning to avoid congestion. Now, he uses the early hours for sleeping. Secondly, remote work from home provides quite significant savings.
In 2020, as many as 50 Pinja employees switched to 100% remote work, and the number has grown even more since.
– Switching to remote work meant the biggest reduction of motoring in my life. If I went to the nearest office every day, i.e. Tampere, the driving distance would be approximately 90 kilometers every day. Now, year-round drives are somewhere around 5,000 kilometers, down from 25,000 kilometers before.
In 2020, as many as 50 Pinja employees switched to 100% remote work, and the number has grown even more since. The threshold is in part lowered by the fact that the remote work contract does not prevent you from visiting the office from time to time. Pinja encourages and supports those who are willing to work remotely by providing the remote worker with an ergonomic electric desk and an office chair, among other things.
As environmental awareness increases, many have stopped to think about the positive environmental effects of remote working. The effects of remote working in 2020 were reflected positively in Pinja's carbon footprint, which decreased by 36% compared to the previous year due to, among other things, changes in business premises and reduced business travel.
There are many upsides for Sami Siuruainen in remote work, and he has learned to meet possible challenges, as well.
– In remote work, the biggest challenge for most may be that the length of the working day easily stretches. However, I have learned to hold on to the length of the working day. I usually start work at seven in the morning, and unless there is a meeting or something particularly urgent scheduled for the end of the day, I shut down the computer at 3 pm. That's when the house starts to become lively, too. And I know from experience that the code will still be waiting for me the next morning.
Read more
Discover Pinja as a workplace, the career stories of our employees and open positions
A Lead Architect thrives at the deep end of coding
A Business Development Manager develops the customer benefits of Pinja's service
Data analyst visualizes data and promotes effective decision-making
Pinja's Cloud Platform team pull together and everyone can concentrate on their own strengths