Many software solutions are hailed as easy to use and user-friendly, but what does usability mean in practice? And what does that mean in the case of a production planning system?
The usability of various products and services are often assessed using the metrics of usability guru Jakob Nielsen, such as learnability, efficiency, memorability, flawlessness, and user satisfaction. As a result, usability in the software world can be assessed by asking, for example, the following questions:
How quickly does the user get started using the software?
How effectively can the user perform the desired tasks?
How well are software usage skills maintained after a period of non-usage?
How many errors does the user make during use, and how easily can the user detect and correct the errors?
How pleasant is the experience of using the software?
As manufacturing production typically involves a huge number of influencing factors, and final decisions are still mostly made by humans, the usability of a production planning system experienced by the user is critical to expedite and ensure the quality of the decision making.
Usability can be influenced and developed in many ways, and ultimate usability consists of a working combination of different components. At its best, the system provides a comprehensive and real-time view of the production as a whole and helps the production planner pay attention to the essentials – in order of urgency and priority.
Coverage
In the world of production planning, the core feature of the system is that it covers all the factors that affect the design and practical arrangements of production. What is relevant are, among other things, individual orders and their various work stages, material needs, resources and capacities, the interdependencies of all these factors and, of course, schedules. If the system is not comprehensive, it will not live up to its main task: to support the realistic and efficient implementation of production.
Timeliness
A production plan is not useful for practical production arrangements if the information is not up to date. In this respect, a lot depends on the user himself – it all depends on feeding new information in on time and also to make changes to the system promptly.
If the system is easy and fast to use, this will also support the speed of the user's work. Thus, overall usability can be a key element in keeping the data mass up to date. A usable system supports and motivates keeping information up to date, and it also rewards the user with a smooth workflow and easy access to information.
Customizability
The production planning system should support easy and convenient customization in many different ways. First of all, changes to a production plan must be easy to implement – in today's world the only permanent thing is change. Otherwise, there is a risk that the planner will not have time to or will not bother to make all the changes to the plan, even if they are implemented in practice. For example, if changing the order of the work queue is difficult, the plan and the practical production may soon live their own lives.
As people who use a production planning system represent different roles and have different usage needs, the system must also allow for user-specific customization of views.
Usability also means industry- and company-specific customizability. When the bars in a production planning system can be color-coded and freely named as desired – for example, with a product name known by the whole company, an order number or other identifier – it is easy for the production planner to identify and edit items.
In addition, it is necessary to review the production situation at different levels and at different times, so the system should allow editing the views and, for example, zooming in and out of schedules.
At its best, scalability means optimizing production and allowing the production planner to see several possible implementation models. The so-called "what if" snapshots allow you to look at different variations and choose the best option from them – either directly or by further editing.
Visuality
As production planning typically consists of a large number of variables, a very important part of the usability of a production planning system is visuality. It's a different thing to look at a solid gray box than it is to see clearly color-coded order bars. The system should be logical and intuitive, and it should quickly direct the user's attention to critical and urgent points, easily give an overview of it all, and support the user in many ways in various functions.
Visuality also means a clear presentation of different perspectives. In the everyday life of a production plant, it is very practical to look at a load graph, for example, according to the current need, by resources, from a certain time interval or with the desired grouping. At its best, visuality supports the user consistently across the board in different functions and use cases.
Read more
Blog: What are the basic components of good production planning?
Blog: Why is production planning more efficient with APS than ERP or Excel?
Guide: FAQ: Production planning system adoption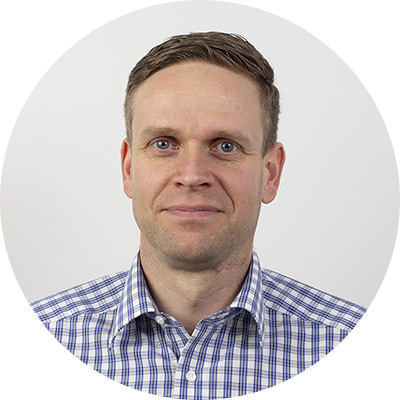 Tero Jännes
I work at Pinja as Director R&D of IPES. Our goal in product development is to create and develop easy-to-use visual systems that support our customers' production planning and shop floor management. I feel inspired by the opportunity to dive into various customer projects and find best-suited solutions. In my free time, I do various sports and coach floorball juniors.